Antique Woodworking Tools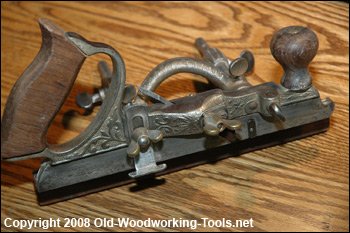 Welcome to the Antique Woodworking Tools web page ! This web site is devoted to providing information and resourcesabout antique woodworking hand tools and vintage woodworking machines.
See the Antique Woodworking Tools Forum - Upload and share your own antique tool photos and information!
My first woodshop was put together by going to garage sales with my dad and bringing home old woodworking machines. We'd locate the owners manuals, tear them apart, clean and rebuild them. Before long they were making sawdust in our woodshop. After teaching furniture and cabinet making for 16 years, I now collect and restore antique hand tools and woodworking machinery.
New Pages! - Hand Planes || Stanley Tools || Stanley Hand Planes
Created by an old woodworking geek and tool collector, Old-Woodworking-Tools.net provides a growing library of free resources for the woodworking and tool enthusiast. I'm a former furniture and cabinet making teacher and tool collector. This site will continue to grow as new resources and tools are added. Check back often to stay up to date on the latest additions and please contribute to this information.
Stanley Woodworking Tools
Miller Falls Hand Tools
Chisels

Share Your Own Antique Woodworking Tool Photos

More Old Woodworking Tool Links
Antique Woodworking Tools
How to Link to Antique Woodworking Tools
It will appear on your page as: