1945 Delta Unisaw Restoration Project
by Ken Lewellyn
(Nashville, TN)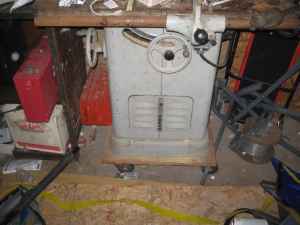 1945 Delta Unisaw As Purchased
Well, it all started with the wife wanting a dining table - I said (foolishly) "I can build one. All I need is a good saw." I'd been wanting a Unisaw or something similar for years, and saw this as my "window of opportunity". She agreed and I bought the Unisaw and started rebuilding it. Took it completely apart, replaced bearings, painted everything, reassembled, tuned, and now it works great!
Join in and write your own page! It's easy to do. How?
Simply click here to return to Vintage Delta Table Saws.
More Old Woodworking Tool Links
Delta Woodworking Tools
Craftsman Woodworking Tools
Rockwell Woodworking Tools
Oliver Woodworking Tools
Boice Crane Woodworking Tools
Walker Turner Woodworking Tools