Antique Delta Jigsaw
by Dan Vogt
(Kansas City, MO)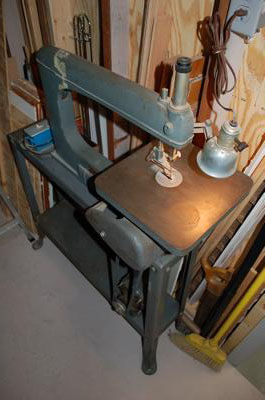 Antique Delta Sroll Saw
My dad got this tool when he was a teenager... and he's 67 now. Just looking for some info on it, as my dad is considering selling it. Serial No. reads AM-2526. Placard says "Delta Power Tool Division, Rockwell Manufacturing Co., Milwaukee, Wisconsin"

Please email pdanvogt@gmail.com. Thanks!

Join in and write your own page! It's easy to do. How? Simply click here to return to Vintage Delta Tool Photos.
More Old Woodworking Tool Links
Delta Woodworking Tools
Craftsman Woodworking Tools
Rockwell Woodworking Tools
Oliver Woodworking Tools
Boice Crane Woodworking Tools
Walker Turner Woodworking Tools