Craftsman (King Seeley Corp.) 8" Table Saw Model# 103.22160
by Jamey Oliver
(Georgia)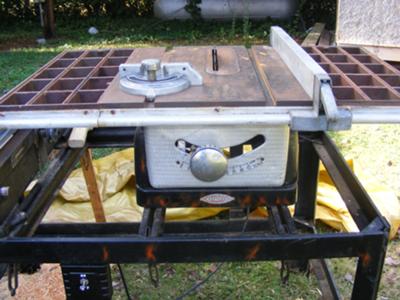 Craftsman (King Seeley Corp.) 8" Table Saw Model# 103.22160
My dad had this table saw and an old Craftsman planer model # 103.23340 under a shed and I decided to take it home and see if it was in working order and it works perfect. Now I am going to work on restoring it to a better condition. Did they come originally with the saw extensions that are on both sides of the saw? (as in my pics) It has all the pieces for the saw.
Join in and write your own page! It's easy to do. How?
Simply click here to return to Vintage Craftsman Tool Photos.
More Old Woodworking Tool Links
Delta Woodworking Tools
Craftsman Woodworking Tools
Rockwell Woodworking Tools
Oliver Woodworking Tools
Boice Crane Woodworking Tools
Walker Turner Woodworking Tools