Craftsman Scroll Saw, Rockwell Band Saw, & Planer
by Terrie
(Oklahoma)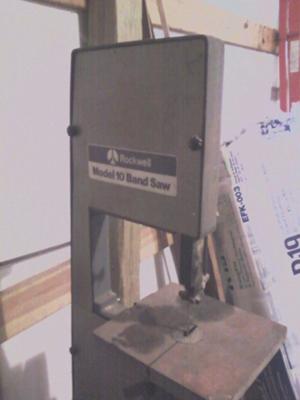 Rockwell Model 10 Band Saw
I have 3 items that belonged to my father before he passed and I'm trying to find out information and what the items would be worth. So far I haven't been able to track down any information on them.

Planer Model #103.23340
Craftsman motor
1/2 HP Capacitor motor
3450 RPM Ball Bearing
Model 1157556
Type CRI8OK9

Rockwell Model 10 Band Saw

Craftsman Scroll Saw


The information I have is what I have been able to find on the items themselves. I am out of my league on Machinery like this.

Join in and write your own page! It's easy to do. How? Simply click here to return to Vintage Craftsman Scroll Saws.
More Old Woodworking Tool Links
Delta Woodworking Tools
Craftsman Woodworking Tools
Rockwell Woodworking Tools
Oliver Woodworking Tools
Boice Crane Woodworking Tools
Walker Turner Woodworking Tools