Industrial Rated Craftsman Sabre Saw
by George Colby
(West Hartford, CT)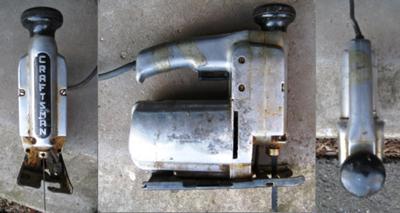 Industrial Rated Craftsman Sabre Saw
This is a 1/3 hp (2.7 amp) sabre saw that I inherited from my grandfather. As best as I can tell, it is from the late '50s to mid '60s. It was made in the USA and still works great.

Model number is 315.279850 and the tag bears the names "Sears, Roebuck and Co." and "Simpsons-Sears LTD."
Join in and write your own page! It's easy to do. How? Simply click here to return to Vintage Craftsman Tool Photos.
More Old Woodworking Tool Links
Delta Woodworking Tools
Craftsman Woodworking Tools
Rockwell Woodworking Tools
Oliver Woodworking Tools
Boice Crane Woodworking Tools
Walker Turner Woodworking Tools