Specialty hand saw ?
by Roger
(Southern Shores NC)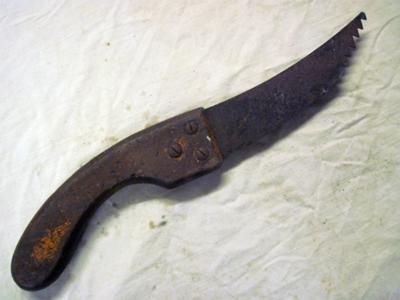 Specialty hand saw ?
The saw is 15" long. Blade is in center of handle. Teeth are sharp. Pretty certain it is manufactured with remnants of finish on handle and way flush mounted screws hold blade onto handle.There are no manufacturers names on handle or blade. Looks like a drywall saw, but not quite. Any ideas anyone?
Join in and write your own page! It's easy to do. How? Simply click here to return to Antique Woodworking Tool Photos.
More Old Woodworking Tool Links
Delta Woodworking Tools
Craftsman Woodworking Tools
Rockwell Woodworking Tools
Oliver Woodworking Tools
Boice Crane Woodworking Tools
Walker Turner Woodworking Tools