Vintage Delta 14" Bandsaw
by Tim
(Binghamton, NY)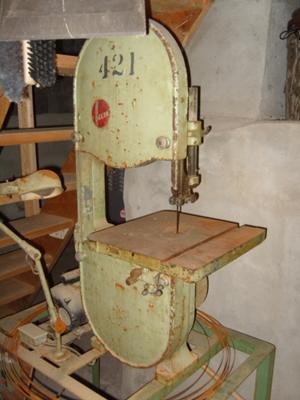 Vintage Delta 14" Bandsaw
My father passed away and has an older model Delta bandsaw, I cannot find the Model No. on it but the Serial No. is 9-3754. Can anyone tell me what the Model No. is, if there is a owner's manual available and what it may be worth in a non-working condition (the lower part of the machine went through a flood and will need some restoration and a new electric motor). I was also thinking about restoring the machine, any thoughts on what it would be worth after that?

Thanks for any help.
Join in and write your own page! It's easy to do. How? Simply click here to return to Vintage Delta Tool Photos.
More Old Woodworking Tool Links
Delta Woodworking Tools
Craftsman Woodworking Tools
Rockwell Woodworking Tools
Oliver Woodworking Tools
Boice Crane Woodworking Tools
Walker Turner Woodworking Tools