Walker-Turner 24" The Drive Line Series Model SJ-30 Serial No. SJ 37-69-B
by Feisty
(Leland , N.C. U.S.A.)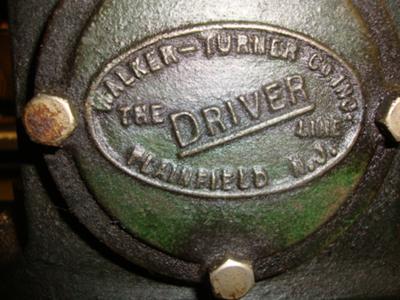 my walker-turner 24" Scroll Saw The Drive Line Series other side with logo , Not sure of the year it was made.
Walker-Turner 24" The Drive Line Series Model SJ-30,Serial No. SJ 37-69-B which are stamped into the metal of stand behind head . Measures 24" Throat area. I got this scroll saw a few years back from a relative whom someone esle gave to him, But I have not used it yet. I need to figure out what size blade it takes it measures 6" at the blade area but it seems no one knows how to find a parts manual or service manual on it, nor can they tell me the year it was made. I did see on this site that the drive line series was made for sears craftsman tool line but the info ends there.I did call sears but they couldn't help me at all. I do have more pictures but Im not sure how to upload them all for it. I will try to do it so that this site has more photos of this model. Thanks all have a good day. If this site will contact me i have more photos i would like to add to this page.
Join in and write your own page! It's easy to do. How? Simply click here to return to Vintage Walker-Turner Tool Photos.
More Old Woodworking Tool Links
Delta Woodworking Tools
Craftsman Woodworking Tools
Rockwell Woodworking Tools
Oliver Woodworking Tools
Boice Crane Woodworking Tools
Walker Turner Woodworking Tools