10" Delta Bandsaw
by Mike Ingram
(Victoria BC)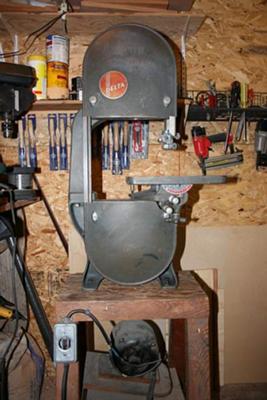 10" Delta Bandsaw
I have just aquired this bandsaw, came with a bunch of machine shop tools, It is in pretty good condition but could use a couple of new parts prior to using it it my home workshop.

Problem is I can not identify the model number, I have called Delta and given them the serial number ( 10-4277) they were also unable to tell me what the model number is. All of the casting numbers and part numbers start with TBS, the cast mark TBS-10 is on the main upper casting. I also have a 14" Delta saw in my business and I think that some of the parts will interchange, but I also have a full machine shop and can fabricate anything I can't buy.

I would like to try and find a manual if possible just because I am geared that way. Any help in identifying this nice old saw would be greatly appreciated as I intend to use it for a long time.