Band Saws
Band saws are one of the most versatile tools in the shop. When looking to cut curves and other irregular shapes in wood, the band saw is the best tool to choose. It features a continuous band of blade that travels around an upper and lower wheel (or three wheels in the 3-wheel style). The blade rotates in a clockwise direction so cutting is on a continuous down stroke.
A quality band saw with a few accessories will do far more than just cut curves. They are great for ripping small pieces of stock, resawing thin strips from larger pieces, and for some specialty work such as cutting rabbets. Band saws come in a variety of sizes and types and there are several options available depending on the kind of work you want to do.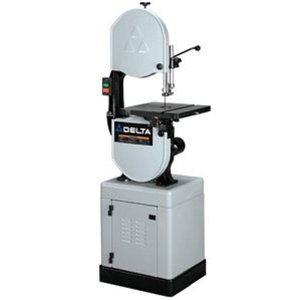 Types of Band Saws
There are three main types of band saws, bench top models, stand mounted, and floor model cabinet saws.
Bench Top Band Saws
A bench top band saw is a shorter smaller unit that mounts on either a dedicated stand or a bench top. These units are ideal for the home woodworker where space may be limited. They are also good for light scroll cutting.
Stand Mounted Band Saw
These are some of the most popular band saws for the serious woodworker. They are typically a heavy duty band saw with a cast iron frame mounted on an enclosed steel stand. The biggest difference between this and the floor model band saws is that the lower wheel is usually mounted in the lower cabinet on the floor mounted saws while it is included within the frame of the stand mounted saw and sits above the stand.
Floor Model Band Saws
Floor model band saws are built for professional and home use where the use and wear more heavy duty than that performed on the lighter bench top models. These floor model band saws have more features and accessories available and they usually use a larger motor and a larger more sturdy frame to support heavier duty cutting. They will also cut a larger piece of wood. The sturdiness makes these saws ideal for resawing and curved work in thicker stock.
Band Saw Features
Depth of Cut
The main considerations when choosing a band saw are the depth of cut and the throat. A band saw's depth of cut is the distance from the table to the upper blade guides and determines how thick a piece of wood can be cut. Some saws that have only a six inch depth of cut have an optional riser block that is available to extend the depth of cut from six to twelve inches. The classic Delta 14" band saw is a good example. The depth of cut is an especially important factor when resawing.
Throat
The throat is the distance between the blade and the vertical frame of the saw. This is something close to the same measurement of the diameter of the band saw wheels. The distance determines the width of cut that can be made or as some manufactures put it, the distance to the center of a circle that the saw is capable of cutting. When someone is describing a band saw as a 14" or an 18" model that measurement is referring to the throat of the saw. Saws with wide throats allow you to make wider straight cuts and scroll larger pieces without obstruction from the frame.
Band saws range in throat capacity from 8" to 36" and are available in two wheel and some three wheel design. A three wheel design usually has a larger throat capacity.
Size of Band Saw Motor
Another consideration is the horsepower of the band saw's motor. Bench top models and smaller band saws for home use will use a 1/2 HP to 1 HP motor. Floor standing and larger professional models will use a larger motor up to 2 to 3 HP. Another feature for band saw motors is whether or not it is a direct drive motor or a belt driven model. Many bench top models feature smaller direct drive motors while the floor standing models typically have a larger belt-driven motor located in the stand beneath the saw. If the saw is to be used to cut metal it should have a variable speed motor or a belt and pulley system that allows for slower speeds. A band saw speed is measured in feet of blade travel per second. Higher horsepower also allows the saw to cut through thick stock without bogging down or burning the wood.
Blade Width
Blade width is an important consideration depending on the type of work you will be doing. Very fine scroll work will require the ability to accept a very narrow or even a round blade for cutting detailed design with sharp curves such as ornate fretwork. Resawing will require a wide blade to keep it from "drifting" with the grain of the wood. Most cuts in thicker stock will require wide blades that won't flex as much as narrow ones. This is also important for making straight cuts. See more information about blades.
Additional Features
Table Top - Band saws should have a cast iron, steel or aluminum table which tilts up to 45 degrees for angled cuts. The larger the saw, the larger the table should be to support larger work. Some band saw tables also have a groove in them for use with a miter gauge.
Dust Collection Port
Another useful feature to look for in a band saw is a dust collection port to connect to a saw dust collector or shop vac. These are typically located just beneath the table top to collect sawdust before it can get near the lower wheel and build up on the rubber tires. This can cause the wheel to become unbalanced and the saw to vibrate. A mechanism such as a small brush mounted so that it can brush dust off of the rubber tire is also a feature to look for.
Rip Fence
A rip fence is a necessary option if you intend on cutting straight work. An accessory rip fence usually consists of a front and rear steel rail that is mounted to the band saw table. The fence rides on the two rails and can be clamped or locked into position at the desired distance from the blade to provide a straight cutting edge to hold the stock against while cutting a straight line.

Optional Accessories
Band saws may also be available with accessories that extend the functionality of the saw. These include miter gauges, circle cutting jigs, sanding belts, etc.
Vintage Band Saws
Band Saw Accessories
Band Saw Blades
Band Saw Riser Kit
Band Saw Miter Gauge
Band Saw Rip Fence
Boice Crane Band Saws
Craftsman Band Saws
Craftsman 12" Band Saw Model 103.21820
Craftsman 12" Band Saw Model 102.24260 (1952)
Craftsman 3-wheel Band Saw
Delta Band Saws
Delta 10" Band Saw Model No. 768 (1937)
Delta Homecraft 10" Band Saw Model 28-110 (1949)
Delta 14" Band Saw Model 28-207 (1949)
Powermatic Band Saws
How to Link to This Page
It will appear on your page as:
More Old Woodworking Tool Links
Delta Woodworking Tools
Craftsman Woodworking Tools
Rockwell Woodworking Tools
Oliver Woodworking Tools
Boice Crane Woodworking Tools
Walker Turner Woodworking Tools