Stanley Planes
Everything you wanted to know about Stanley planes made by the Stanley Rule & Level Company
Stanley woodworking planes are some of the most recognizable and collectible antique woodworking tools available. Made by a variety of manufacturers that the Stanley Rule & Level Company acquired over the years, these planes were found in many small furniture and cabinet shops as well as home shops and schools. Many of the Stanley bench planes are still staples in school woodworking classes.
Stanley sold dozens of different types of planes all of which were assigned a number. Some are very rare and highly sought after by collectors. I've been fortunate to acquire a few of them including the highly collectible Stanley No. 1 plane and others. Below, you'll find links to information about each of the Stanley woodworking planes made including photos, history, and information about each model.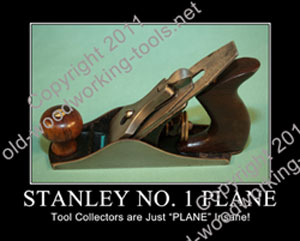 The Stanley No. 1 Plane
A beautiful 11 x 14 high resolution print of one of the most collectable Stanley hand planes. Suitable for framing, this print would be perfect for your den, office or man cave.
Tool Collectors are "Plane" Insane
Buy now for $24.50 with free shipping.
Stanley Hand Planes By the Number!
Stanley No. 1 Smooth Plane
Stanley No. 2 Smooth Plane
Stanley No. 2C Smooth Plane Corrugated Bottom
Stanley No. 3 Smooth Plane
Stanley No. 3C Smooth Plane Corrugated Bottom
Stanley No. 4 Smooth Plane
Stanley No. 4C Corrugated Bottom Smooth Plane
Stanley No. 4 1/2 Smooth Plane
Stanley No. 5 Jack Plane
Stanley No. 5C Jack Plane Corrugated Bottom
Stanley No. 5 1/4 Junior Jack Plane
Stanley No. 5 1/2 Jack Plane
Stanley No. 5 1/2C Jack Plane Corrugated Bottom
Stanley No. 6 Jointer Plane
Stanley No. 6C Jointer Plane Corrugated Bottom
Stanley No. 7 Jointer Plane
Stanley No. 7C Jointer Plane with Corrugated Bottom
Stanley No. 8 Fore Plane
Stanley No. 8C Fore Plane with Corrugated Bottom
Stanley No. 9 Cabinetmakers Block Plane
Stanley No. 9 1/4 Block Plane
Stanley No. 9 1/2 Block Plane
Stanley No. 9 3/4 Block Plane
Stanley No. 10 Carriage Makers Rabbet Plane
Stanley No. 10C Carriage Makers Rabbet Plane Corrugated Bottom
Stanley No. 10 1/4 Carriage Makers Rabbet Plane with Tilting Tote and Knob
Stanley No. 10 1/4 C Carriage Makers Rabbet Plane with Tilting Tote and Knob Corrugated Bottom
Stanley No. 10 1/2 Carriage Makers Rabbet Plane Smaller No. 10
Stanley No. 10 1/2C Carriage Makers Rabbet Plane Smaller No. 10 Corrugated Bottom
Stanley No. 11 Belt Makers Plane
Stanley No. 11 Bull Note Rabbet Plane
Stanley No. 11 1/2 Floor Plane
Stanley No. 12 Veneer Scraper
Stanley No. 12 1/4 Veneer Scraper Narrower
Stanley No. 12 1/2 Veneer Scraper Rosewood Sole
Stanley No. 12 3/4 Veneer Scraper Rosewood Sole
Stanley No. 13 Circular Plane

Stanley No. 15 Block Plane
Stanley No. 15 1/2 Block Plane
Stanley No. 16 Block Plane
Stanley No. 17 Block Plane
Stanley No. 18 Block Plane
Stanley No. A18 Aluminum Block Plane
Stanley No. 18 1/4 Block Plane
Stanley No. 19 Block Plane
Stanley No. 20 Circular Plane Nickel Plated
Stanley No. 20 1/2 Circular Plane Japanned
Stanley No. 21 Transitional Smooth Plane
Stanley No. 22 Transitional Smooth Plane
Stanley No. 23 Transitional Smooth Plane
Stanley No. 24 Transitional Smooth Plane
Stanley No. 25 Transitional Block Plane
Stanley No. 26 Transitional Jack Plane
Stanley No. 27 Transitional Jack Plane
Stanley No. 27 1/2Transitional Jack Plane Narrower Heavier
Stanley No. 28 Transitional Fore Plane
Stanley No. 29 Transitional Fore Plane
Stanley No. 30 Transitional Jointer Plane
Stanley No. 31 Transitional Jointer Plane
Stanley No. 32 Transitional Jointer Plane
Stanley No. 33 Transitional Jointer Plane
Stanley No. 34 Transitional Jointer Plane
Stanley No. 35 Toted Transitional Smoother
Stanley No. 36 Toted Transitional Smoother
Stanley No. 37 Transitional Jenny Plane
Stanley No. 39 Dado Plane
Stanley No. 40 Scrub Plane
Stanley No. 40 1/2 Scrub Plane Larger
Stanley No. 41 Miller's Patent Adjustable Metallic Plow Fillester Plane

Stanley No. 46 Skew Cutter Combination Plane
Stanley Cabinet Makers Rabbet Plane
Stanley No. 90 Bullnose Rabbet Plane
Stanley No. 92 Rabbet Plane
Stanley No. 93 Rabbet Plane
Stanley No. 113 Circular or Compass Plane
Stanley Bedrock Planes
Stanley Bedrock No. 607 Jointer Plane
How to Link to This Page
It will appear on your page as:
More Old Woodworking Tool Links