Woodworking Machine Manuals & Catalogs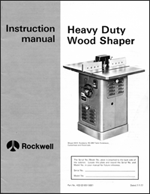 Over the years, we've collected hundreds of old out of print woodworking machine manuals and publications related to old woodworking machinery. We're digitizing these and adding them to the list below.
These publications include owners manuals, parts lists, catalogs, and other documents for various manufactures.
Submitting Publications:
If you would like to contribute to the library below by submitting tool manuals, articles, catalogs or other publications that you have, please complete the Contribute Content form and we'll get in touch with you to add your information to this library of resources.
More Woodworking Machine Manuals & Catalogs
Powermatic Tool Manuals - Coming Soon
Click here to Add Your Own Tool Manuals to this collection
More Old Woodworking Tool Links
Delta Woodworking Tools
Craftsman Woodworking Tools
Rockwell Woodworking Tools
Oliver Woodworking Tools
Boice Crane Woodworking Tools
Walker Turner Woodworking Tools