1956 Delta 1460 16-Speed Lathe for Wood or Metal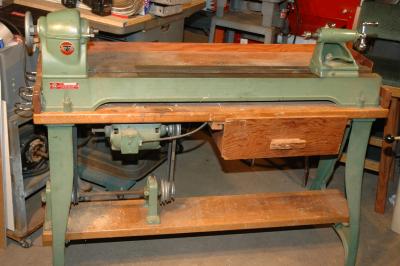 Delta 1460 16-speed Lathe - 1956
Delta 1460 Lathe set up for 16 speeds for turning light metals, plastics, and woods. This is the standard Delta 1460 4-speed wood lathe outfitted with the optional counter shaft unit that converts the 4-speed lathe into a 16-speed lathe for light metal turning. The slower speeds are also ideal for large face plate turning of woods.

The stand with the heavy cast iron legs is Delta Model No. 1463. The lathe is powered by a Delta 1/2 HP capacitor start motor, 115 volts. Model No. 62-610.

Delta 1460 Lathe Specifications
16-Speed Lathe... 340 to 3400 rpm
Swings over bed... 12"
Between centers... 37"
Overall Dimensions:
Length... 57"
Width... 10 1/2"
Height.. 14 3/8"
Height on stand... 46"
Tool Rest from Floor... 42"
Accurately Ground Ways both front and back - 2" wide
Spindle Diameter... 1 1/4"
Spindle Hole, No. 2 Morse Taper
Spindle Thread... 1" - 8
Ball Bearings... sealed for life.