20" Rockwell HD Band Saw Model 28-350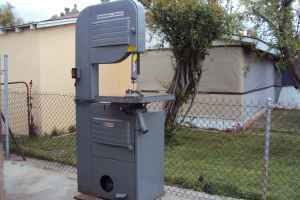 Vintage Delta 20
This is a 20" Rockwell Industrial Band Saw good for a shop etc. It's was used, but it's in great running condition. With the guide. Band Saw size Height 78 inches, wide 31 inches, long 40 inches.
Powered by a Dayton 1 1/2 horsepower Motor, 110 Volts single phase motor with a switch to turn off/on. Motor can be converted between 220v and 110v
Rockwell Delta Catalog Number 28-350.
Rockwell Manufacturing Co. Power tool Division, Pittsburgh, Pennsylvania.
Join in and write your own page! It's easy to do. How? Simply click here to return to Vintage Delta Band Saws.
More Old Woodworking Tool Links
Delta Woodworking Tools
Craftsman Woodworking Tools
Rockwell Woodworking Tools
Oliver Woodworking Tools
Boice Crane Woodworking Tools
Walker Turner Woodworking Tools