Craftsman 18" Jig Saw Model No. 103.23150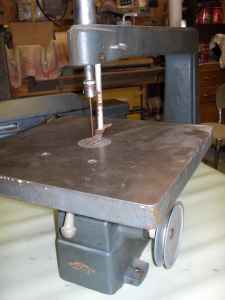 Craftsman 18
Nice old Craftsman 18" Jig Saw Model No. 113.23150. This saw is made of heavy cast iron and has a removable arm so that you can use it as a stationary sabre saw. The 103 prefix in the model number indicates that this saw was made by the King Seeley Corp. for the Sears Craftsman brand.

This 18" belt driven saw has bronze bearings that run in a bath of oil underneath the saw table. It cuts wood up to two inches thick, but it's slow going. The table tilts 45 degrees for mitering or beveling. It includes a blower to keep saw dust out of your way. It used 5 or 6 inch plain end saw blades.

The recommended motor is a 1/3 HP 1725 rpm capacitor start motor. The cast iron table is 12" x 12".

In 1959, this saw sold in the Craftsman catalog for $46.95 without the motor.