Delta 14" Band Saw - 1947 Before
by Ben Anderson
(Northern California)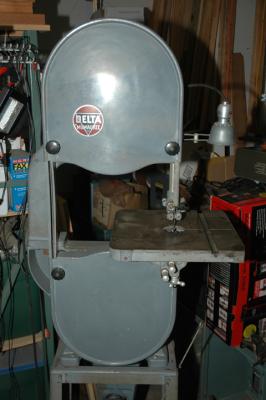 Delta 14" Band Saw 1947 Before Restoration
I purchased this vintage Delta Band Saw from an estate sale in Santa Cruz, CA. The serial number on the saw indicates that it was manufactured in Milwaukee, WI in 1947. It sits on a Delta open leg steel stand with the original 1/3 H.P. Delta motor mounted underneath. It has the push rod switch. It also has the original bee-hive lamp and the sheet metal belt/pulley guard.

The saw is already in pretty good shape, and I don't think it will take much to restore it to showroom new. It has a few scratches on it and a little bit of rust on the table.

I would appreciate any restoration tips anyone can share with me. What's the best way to clean the cast iron table top? What about paint... is Rustoleum machine tool grey a close enough match to the original Delta color? I remember that Delta used to sell their grey machine tool enamel paint, but no one seems to be able to tell me if it's still available or where I might find it. What is the best way to bring the Delta logo and nameplates back to life?

Does anyone know where I can find a replacement table insert? That seems to be the only piece that is missing. I'm looking forward to restoring this saw and hearing from some of you about restoration tips.

Thanks for you help!