Delta Milwakee Tabe Saw serial # 33-4029
by Carlos Ponce
(Wingdale, NY)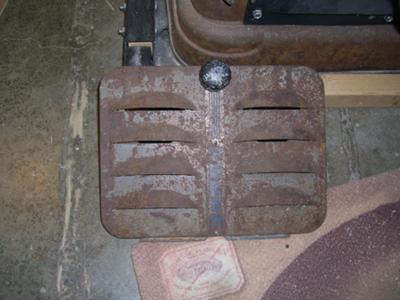 by Scott (Dayton, Ohio) Delta 10
In 2004 one of my customers decide to do a huge clean up in his garage and gift me this table saw. It is a cabinet saw and look exactly as another that I saw here and the owner says that is from 1950. It was not in good conditions but I restored it and it works great, is very precise and I use it almost every day because after receive it I was changing my activity and today I'm doing furniture restoration.

Now, my problem is that the blade cover(that works as cover and anti kickback tool) is broken and I want to find another, it's made of cast aluminum. And another, there is a motor cover for this machines? because I hear that there is some of cast iron? or metal sheet? If you or somebody can tell me about that parts can be great.
Thanks.
Join in and write your own page! It's easy to do. How? Simply click here to return to Vintage Delta Tool Photos.
More Old Woodworking Tool Links
Delta Woodworking Tools
Craftsman Woodworking Tools
Rockwell Woodworking Tools
Oliver Woodworking Tools
Boice Crane Woodworking Tools
Walker Turner Woodworking Tools