Delta Rockewll Tilt-Arbor Vintage Table Saw
by Karen and Jim
(Tacoma, WA USA)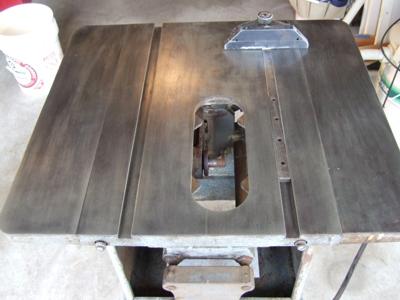 Delta Rockewll Tilt-Arbor Vintage 10
I'm unable to find the model number. Where can I find it? I need to find a part for my saw. This saw belonged to my great uncle, Lars Boyd, a building contractor in the 1940's and 1950's in Seattle, Washington. Here are the numbers I have: Serial Number: CC 3539; I find the number TAB 140 on the underside of the table part of the saw.

This saw has been stored in several places and had become very rusty. It is now cleaned up and working. It has a Craftsman motor which is working. The name Delta Rockwell is written on the base of the saw.

The missing piece is the insert from which the blade protrudes. The piece is an oval measuring 10 1/4 inches by 3 1/2 inches with a depth of 3/8 inch.

Any help you can give me to find either the model number or the part would be appreciated.