Delta Rockwell Homecraft 11" Drill Press
by Chad Hunter
(Iowa)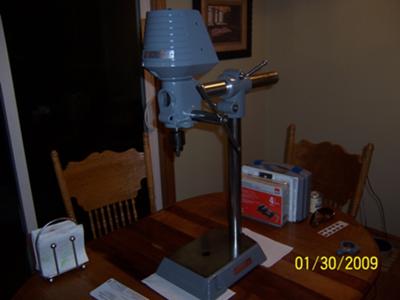 Delta Rockwell Homecraft 11" Drill Press
I am in the middle of restoring this drill press to an acceptable viewing condition. This was purchased by my father at a tool auction and given to me for the start of my woodworking shop. It was an ugly beat up shade of green and had three layers of paint all together.

The drill press is in excellent working condition all bearing and bushings are solid so I thought it would really be nice to make it look good again. I was wondering if anyone could provide model information about the piece and perhaps time frame as to when they were made. It looks similar to the Delta 11-100 but it is distinctly different.

I have no history on the machine so it could be cobbled out of multiple pieces. The head of this one can rotate better than 90 degrees right or left and can also be slid in or out to accomodate different drilling needs. Any information that could be provided would be greatly appreciated, I am really happy with the way this machine is turning out. Not shown, it does have what appears to be the original rockwell motor, model 62-413 one third hp 1725 rpm.