Hand Operated Drill Press - Questions
by Bob P.
(Dracut, MA)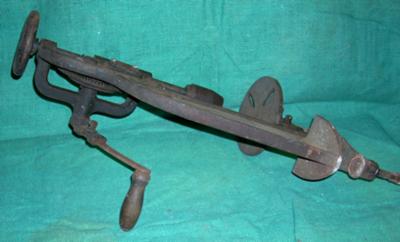 Hand Operated Drill Press
This hand operated drill press has been in the family for decades. I moved recently and found it tucked away in the basement.

I have no information so if anyone can help identify it, it would be greatly appreciated.
Join in and write your own page! It's easy to do. How? Simply click here to return to Antique Woodworking Tool Photos.
More Old Woodworking Tool Links
Delta Woodworking Tools
Craftsman Woodworking Tools
Rockwell Woodworking Tools
Oliver Woodworking Tools
Boice Crane Woodworking Tools
Walker Turner Woodworking Tools