Stanley #2c Bench Plane ?
by john
(kansas)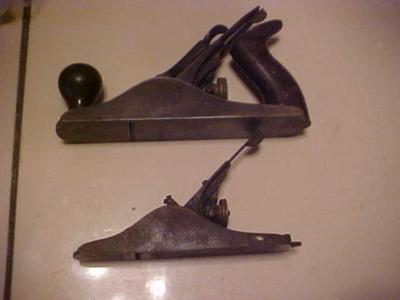 Stanley # 2c ???
Recently acquire this plane at a flea market. There are no pat.dates or any model numbers on the body. It does have the (b)casting letter under the frog. It is 7 inches long and 1 15/16 wide.

I took pictures of it sitting next to my #3 for comparison and removed the handles so the plane body can be viewed.
Join in and write your own page! It's easy to do. How? Simply click here to return to Antique Woodworking Tool Photos.
More Old Woodworking Tool Links
Delta Woodworking Tools
Craftsman Woodworking Tools
Rockwell Woodworking Tools
Oliver Woodworking Tools
Boice Crane Woodworking Tools
Walker Turner Woodworking Tools