18" Model 103.23151 Jig / Scroll saw
by Bill B.
(Greenwood, IN )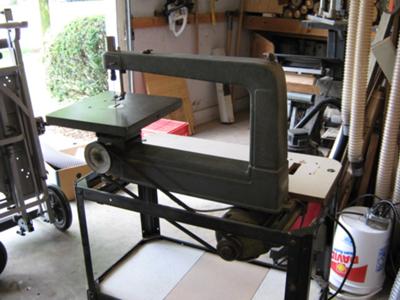 Craftsman 103.23151 Scroll Saw
Have 18" Model 103.23151 jig saw in very good condition and have no clue what value might be. With 1725 rpm GE 1/4 HP motor. Am considering selling. Works well, just have no need for two. Just learned from another OWWM listing that upper arm can be removed and sabre saw blade installed in bottom end to use as a stationary sabre saw type dealio. Have not tried it, but makes sense. Table top is rust free. Stand is functional at best.
w.buchanan1@comcast.net.
Join in and write your own page! It's easy to do. How? Simply click here to return to Vintage Craftsman Tool Photos.
More Old Woodworking Tool Links
Delta Woodworking Tools
Craftsman Woodworking Tools
Rockwell Woodworking Tools
Oliver Woodworking Tools
Boice Crane Woodworking Tools
Walker Turner Woodworking Tools