24" Walker-Turner Scroll Saw
by David Englet
(Gladstone, Oregon)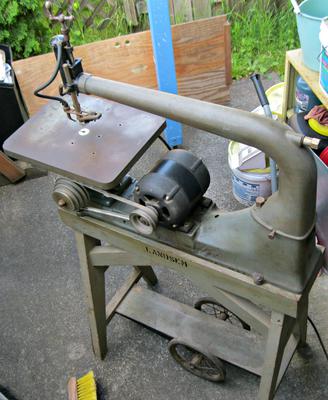 W-T Scroll Saw
This is a nice tool. I have looked at other Walker-Turner saws on-line and this appears to be pretty standard. I don't believe it ever had a lamp connected. It sits on what I believe is a homemade stand with two wheels.

I have used it a couple of times over the years since my father left it to me. I would use it more, but I have a very small shop and this takes up a fair amount of space.
Join in and write your own page! It's easy to do. How? Simply click here to return to Vintage Walker-Turner Tool Photos.
More Old Woodworking Tool Links
Delta Woodworking Tools
Craftsman Woodworking Tools
Rockwell Woodworking Tools
Oliver Woodworking Tools
Boice Crane Woodworking Tools
Walker Turner Woodworking Tools