Craftsman "100" - 12 Inch Band Saw
Modle No. 103.24260 - 1952
Craftsman used to make some pretty good quality woodworking machines for the home craftsman back in the 1950's and 1960's. This was one of them. It was made of metal, not cheap plastic. The Craftsman "100" 12 Inch Band Saw - Cuts to center of 24 inch circle... up to 6 inches thick. It was rugged, heavy duty construction. The Craftsman "100" 12 Inch Band Saw was designed and built for production work but worked equally well for the home woodworker.
The only band saw in this price range with all these features: 1) Uni-cast cover and frame for extra strength and rigidity. 2) Self-aligning upper blade guide reduces friction, prolongs blade life, 3) Oil impregnated bronze blocks, ball-bearing thrust wheels on saw guides above and below table. 3) All working parts completely enclosed... if the blade ever breaks, it's inside the housing where it can't fly out. 5) Drive shaft and ball bearings are integral unit.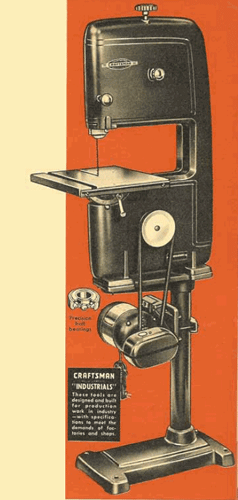 Four sets of precision ball bearings, lubricated for life. Large 14 3/16 x 12 1/2 inch smooth ground, cast semi-steel table tilts 0 to 45 degrees; has miter slot for use with the 9A2246 miter gauge listed below. Two 12 3/8 inch rubber tired cast iron wheels. With on 80 x 1/4 inch blade.
Craftman "100" 12 Inch Band Saw Specifications:
Depth of throat... 12 inches
Capacity of cut... 6 inches
Table size.... 12 1/2 x 14 3/16 inches
Length of Blade..... 80 inches
Width of Blade... 1/8" to 1/2 inch
Blade speed.... 2165 feet per minute
Bearings... 4 sets lubricated for life precision ball bearings
Machine Pulley (Included)... 5-inch
Motor Pulley (Included)... 2-inch
Motor recommended - Minimum 1/2 HP
How to Link to This Page
It will appear on your page as:
Craftsman 100 12-Inch Band Saw
More Old Woodworking Tool Links
Delta Woodworking Tools
Craftsman Woodworking Tools
Rockwell Woodworking Tools
Oliver Woodworking Tools
Boice Crane Woodworking Tools
Walker Turner Woodworking Tools