Craftsman 10'' Table Saw - Model No. ?
by Tom
(Portland, OR, USA)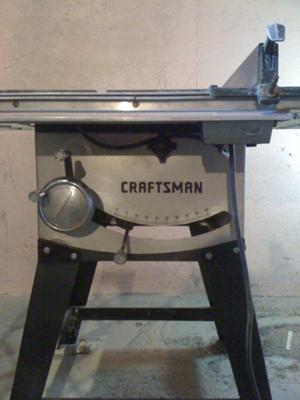 Craftsman 10'' Table Saw - Model No. ?
Got this table saw for free. It took 2 weeks to remove the rust and free the adjusting mechanisms. Now it runs like a champ.
It is a direct drive.

The only problem I see is that the shaft of the motor, when I turn it, I could see a slight wobble. Doesn't seem to affect the quality of cuts. I am wondering if I could pull the shaft out and replace it - is that possible?

I do not know the model number of the saw - it is nowhere to be found. I would love it if someone could tell me the model number and perhaps how old it is.

It is direct drive, stamped steel extension wings, micro-adjust fence. I am including some pics.

Thanks,
Tom.


Join in and write your own page! It's easy to do. How? Simply click here to return to Vintage Craftsman Tool Photos.
More Old Woodworking Tool Links
Delta Woodworking Tools
Craftsman Woodworking Tools
Rockwell Woodworking Tools
Oliver Woodworking Tools
Boice Crane Woodworking Tools
Walker Turner Woodworking Tools