Craftsman 103.22160 Table Saw 8"
by Mark
(Iowa)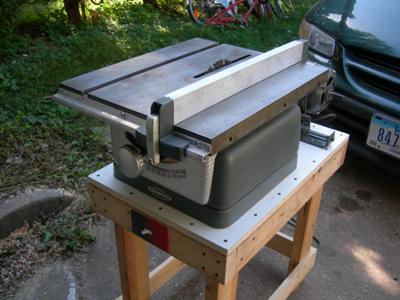 Craftsman 103.22160 Table Saw 8"
I got this in trade for some work I did. It was complete but mounted on a short, wobbly stand and some parts were in boxes. I built a better stand, rewired it, tore it apart, cleaned and greased every piece and reassembled it. After some adjustments and tweaking, it cuts cleanly and straight as an arrow. The sliding/floating motor design is pretty clever, just make sure you keep it greased.
Join in and write your own page! It's easy to do. How? Simply click here to return to Vintage Craftsman Tool Photos.
More Old Woodworking Tool Links
Delta Woodworking Tools
Craftsman Woodworking Tools
Rockwell Woodworking Tools
Oliver Woodworking Tools
Boice Crane Woodworking Tools
Walker Turner Woodworking Tools