Craftsman 15 Inch Drill Press
The Craftsman 15 1/2 Inch Drill press was featured in the 1966 Sears Craftsman Tool catalog with the followig headline.
Pulley and sleeve formed into one piece to assure
positive transmission of power, greater accuracy!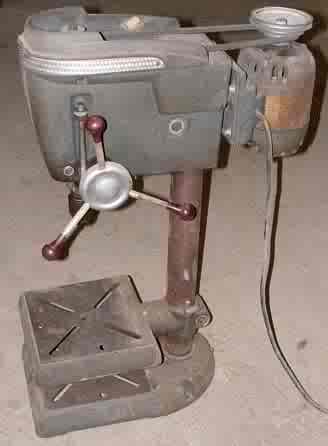 What other drill gives you all these features? Strong coil spring for quill return to assure closer adjustment and longer life. Nine different operating speeds.. 660 to 5000 RPM. Box-type head casting with built-in guard that encloses over 50% of the belt length permitting fast belt changes without removing guard. Special Safe-Lock chuck with a threaded collar which locks on the spindle making possible the use of routers and culters without a collet chuck.

Four ball bearings, permanently lubricated. Adjustable table and head. Double-shoe locks. Depth gauge calibrated in 16ths inch, can be set for repetitive drilling. Hinged motor mount. Drills to center of 15 1/2" circle (7 3/4 inches from center of bit to back of table). Maximum spindle travel 4 inches. 10 x0 10 slotted table. 1/2 x 45 inch V-belt included.
Two 5 inch 4-step pulleys. No. 33 Jacobs taper holds bit shanks up to 1/2 inch diameter.
Craftsman 15 1/2 Inch Drill Press Specifications
Depth of throat.. 7 3/4 inches
Spindle... No. 33 Jacobs taper
Chuck capacity... 0 to 1/2 inch
Spindle Travel... 4 inches
Quill diameter... 1 5/8 inches
Depth graduations... 1/16 inch
Work surface... 10 x 10 inches
Table travel... 38 3/4 inches
Distance, base to chuck, maximum... 44 1/2"
Machine Pulley... 5 inches 4-step
Motor Pulley... 5 inches 4 s-step
V-Belt... 1/2 x 45 inches
Motor... required minimum 1/2 HP, 1725 RPM
9 speeds from 660 to 5000
Height... 65 1/8 inches
Width... 18 1/8 inches
Depth... 24 inches

Floor model without motor. Measures 65 1/8 inches high; 44 1/2 inches from cast·iron base to chuck. Maximum table travel 38 3/4 inches
Shipping weight 172 pounds.
1966 Catalog Price.... $127.95
Craftsman 15 1/2 Inch Drill Press Accessories
Adapter with Holding Collar.
Use with 1/2 inch bore shaper cutters.
Fits all makes of drill presses with No. 33 Jacobs tapered spindle. Precition build adapter has 1/2 inch x 20 thread. Collar screws to drill press Spindle.
Screw On Type Collet Chuck
Use with routing, dovetailing and carving bits. Fits any 1/2 inch x 20 thread spindle. This chuck can be used with the Adapter with Holding Collar above. Available in 1/4 inch and 1/2 inch capacity.
Collet Chuck with Holding Collar
Fits high-speed woodworking bits with 1/4 or 1/2 inch shank. 1/2 inch capacity with 1/2 inch busing. Fits all drill presses which have No. 33 Jacobs tabper spindle. The collet chuck screws on to the spindle.
How to Link to This Page
It will appear on your page as:
More Old Woodworking Tool Links
Delta Woodworking Tools
Craftsman Woodworking Tools
Rockwell Woodworking Tools
Oliver Woodworking Tools
Boice Crane Woodworking Tools
Walker Turner Woodworking Tools