Craftsman 18 Inch Scroll Saw
The Craftsman 18 inch scroll saw table tilts from 0 to 45 degrees for mitering and beveling wood up to 2 inches thick. It also cuts plastics and non-ferrous metals. It uses 5 or 6 inch plain-end blades scroll saw blades. The saw features an oil sealed bearing for smooth, quiet operation.
Craftsman 18 Inch Scroll Saw Features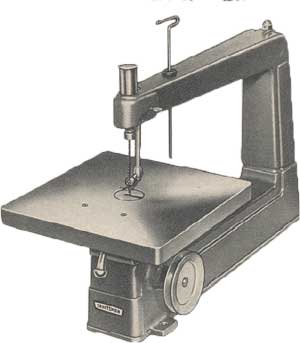 The Craftsman 18 inch scroll saw includes the following features: 1) A resilient chuck shoe between blade and clamp that cushions blade and helps prevent twisting and breaking; 2) The blade rests against steel balls in the back-up guide which results in less blade wear; 3) The guide is adjustable in all directions... always exact alignment and maximum support when rotating blade for back cutting or ripping pieces over 18 inches long; 4) The cap floats radially for perfect vertical alignment. It comes without a motor, motor pulley, or V-belt. Shipping weight 70 pounds.
Recommended Motor
A Craftsman 1/3 HP, 1725 ROM sleeve bearing split phase motor is recommended for the Craftman 18" scroll saw. The motor operates on 110-120 volt, 60 cyce AC. It uses a 2 inch motor pulley and 1/2 x 54 inch V-belt.
The Craftsman 18 Inch Scroll Saw is ruggedly constructed with precision machined parts in which the mechanism is soundly designed to give you maximum trouble free service.
The crankcase contains a modified scotch yoke running in a bath of oil which imparts a smooth stroke with a minimum of vibration.
This saw may be quickly and easily converted to sabre sawing.
Truly a quality tool backed by the experience gained through the production of thousands of saws.
Lubrication
Before operating this scroll saw the crankcase must be filled with oil.
Fill the crankcase to the level of the filler plug with any good quality automobile engine oil, SAE No. 30. This will take approximately one pint. The filler plug is located on the left side of the crankcase.
The main bearing is a long-life porous bronze bearing and requires oiling by hand. This bearing is surounded by a reservoir accessible by removing the oil plug, No. 65 located behind the pulley and directly over the pulley shaft. To completely fill this reservoir use either a pressure oil can or one with a small spout. Use a good quality automobile engine oril SAE No. 30. When filled this reservoir feeds oil to the bearing which, in turn, filters and meters the oil to the shaft.
Speed and Power
This scroll saw is designed to operate most efficiently at 800 to 1000 strokes per minute. For average home shop operations the proper operating speed and power may be attained by using a 1/4 to 1/3 horsepower, 1725 RPM motor equipped with a 2 inch diameter pulley. If continuous heavy-duty work is planned a 1/3 horsepower motor should be used.
How to Link to This Page
It will appear on your page as:
More Old Woodworking Tool Links
Delta Woodworking Tools
Craftsman Woodworking Tools
Rockwell Woodworking Tools
Oliver Woodworking Tools
Boice Crane Woodworking Tools
Walker Turner Woodworking Tools