Craftsman 6 Inch Jointer Planer
The heavy duty cast iron Craftsman 6 Inch Jointer Planer was and still is one of the better woodworking tools that Craftsman produced when they were making quality tools. Many of the old cast iron jointers are still in use today. I first purchased one at a garage sale for about a hundred bucks back in 1980. I used it in a custom cabinet shop for years and it held up with the best of the Delta and Walker Turner jointers.
Craftsman 6 Inch Jointer Planer... Only at Sears, a jointer planer with base, rear table, legs cast in one solid piece... reduces vibration, cuts truer joints, planes smoother.
Industrial quality... for continuous heavy-duty service. The jointer fence extends the full length of the rear table and locks flush. There are stops at 45 and 90 degrees. It will handle stock up to 6 inches wide. The bearing housings are part of the base casting. It includes a depth-of-cut scale, six micro adjustment screws align the three alloy-steel blades in the steel cutterhead. It has a 2 inch machine pulley on a 1/2" shaft, sealed ball bearings that are permanently lubricated. It measure 9 1/8" x 20 5/8" x 42 12" overall; 36 inch working area (front and rear table).
Without the motor, motor pulley, belt or stand, it weights 121 pounds. The jointer pictured here is a 1960's model on a double pedestal cast iron stand.
The 1966 catalog price was $132.95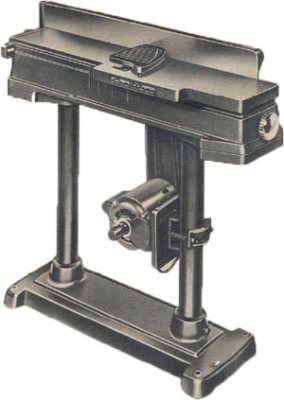 Recommended Motor:
The recommended motor for the Craftsman 6 Inch Jointer Planer was a 1/2 HP, 3450 RPM, ball bearing, capacitor type motor. It required a 2 1/2" motor pulley. When mounted on the cast iron stand it required a 1/2 inch x 45 inch belt.
Double Pedestal Cast Iron Stand
The Sears Craftsman 6 Inch Jointer Planer was best used on a heavy double pedestal cast iron stand. It weighed 71 pounds and helped to cut down on vibration. In later years, they went to a much lighter weight sheet metal stand for their jointers.
Craftsman 6 Inch Jointer Planer Specifications
Width of cut... 6 1/8 inch
Depth of cut... 1/2 inch
Front table... 16 3/32 x 7 15/16 inches
Rear table... 17 7/16 x 6 31/32 inches
Rabbet depth... 1/2 inch
Bearings... 2 sets, ball bearings
Cutter knives... 3 alloy steel, 6 1/8 x 11/16 x 1/8 inches
Recommended arbor speed - approx. 4300 RPM
Motor recommendation... 1/2 HP minimum, 3450 RPM
Machine pulley... 2 inches (5/8" bore)
Motor pulley... 2 1/2 inches (5/8" bore)
Mounting dimensions.... 9 1/2 x 31 13/16 inches
Over-all dimensions:
Height... 9 1/8 inches
Width... 20 5/8 inches
Length... 42 1/2 inches
Craftsman Six Inch Jointer Manuals
Craftsman Six Inch Jointer Model No. 102.05600

How to Link to This Page
It will appear on your page as:
Craftsman 6 Inch Jointer Planer
More Old Woodworking Tool Links
Delta Woodworking Tools
Craftsman Woodworking Tools
Rockwell Woodworking Tools
Oliver Woodworking Tools
Boice Crane Woodworking Tools
Walker Turner Woodworking Tools