Vintage Craftsman Two Piece Rolling Tool Cabinet
by Bob
(Millbury, MA)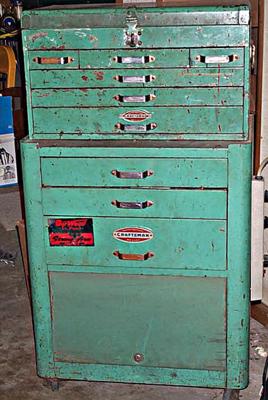 Vintage Craftsman Two Piece Rolling Tool Cabinet
I purchased this tool chest from my father in-law before he passed. Although it shows its age, it is still very sturdy. My wife has a strong attachment to it, from making many trips to the basement to retrieve tools for her dad as a child. I'm not sure if I should have it restored or not. I have terminal cancer and would like to sell it. But of course my wife doesn't like that idea. Maybe someone could tell me the age. I like the green color.
Join in and write your own page! It's easy to do. How?
Simply click here to return to Vintage Craftsman Tool Photos.
More Old Woodworking Tool Links
Delta Woodworking Tools
Craftsman Woodworking Tools
Rockwell Woodworking Tools
Oliver Woodworking Tools
Boice Crane Woodworking Tools
Walker Turner Woodworking Tools